What is Wireless charging system for AGV…
Unlike the conventional manual battery replacement, charging method for moving to an automatic charging station, the AGV wireless charging system uses a short stop time during normal line operation. It is a charging method that repeats "little bit of charging". And it is the latest charging system that companies have been introducing.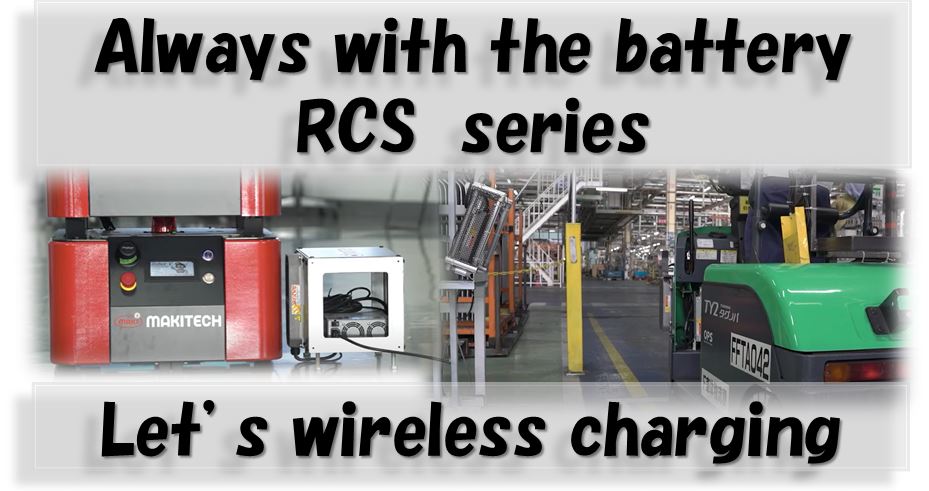 The benefits of wireless charging are many; here are the five major ones;
■ No need to replace the battery
■ Reduces time loss by battery charging
■ Improve battery life
■ Safety improvement by changing
■ Cost reduction for spare parts and work costs
AGV wireless charging image ~Jay's story~
Comparison video of wireless charging and manual charging
For charging and the life of battery
There are various types of batteries and lead batteries are famous use for AGV. In recent years, lead batteries and batteries with a very large number of cycles have been used, but the following two points become important in order to make these batteries last longer.
Depth of discharge and numbers of cycle
It is a value that indicates how much the battery has been used, 0% when the battery is full, 50% when it is half used, and 100% when it is completely used up. The depth of discharge is related to the battery life, and it is said that the deeper the depth, the more the number of cycles of the battery and life is reduced. Therefore, it is thought that repeated use of the battery with shallow depth of discharge as possible will lead to longer battery life.
Charging control and charging current
In battery charging, CC charging or CCCV charging is usually used, CCCV charging is a method of controlling the current while watching the battery status. It is a method that has been widely adopted. In addition, although the amount of current used for charging is generally recommended, a capacity of current is about 1/5 to 1/10 prolongs the life of the battery. This charging current is often used for dedicated chargers for each battery. On the other hand, the battery can be used as a quick charge to shorten the time. As more current flows it may be charged using a higher amount of current than the normal charging. It is thought that, with batteries, effective charging methods and optimum charging current are closely related to the improvement of battery life. The battery is an essential item for operating the AGV, and by being aware of the charging method, it can greatly extend the battery life and lead to more effective utilization.

Various wireless charging systems
Are current operation methods effective for customers who would like to introduce AGV? It might be hard to imagine what kind of wireless charging system should be used. In such a case, we recommend performing simulation and checking the effects in advance while checking the operation status. As shown on the right side, calculate the introduction effect by adding the consumption current and reception current from the battery capacity. While changing the charging time, charging capacity, etc., you can consider optimum operation, battery life extension, etc. B & PLUS offers

performing this simulation for free.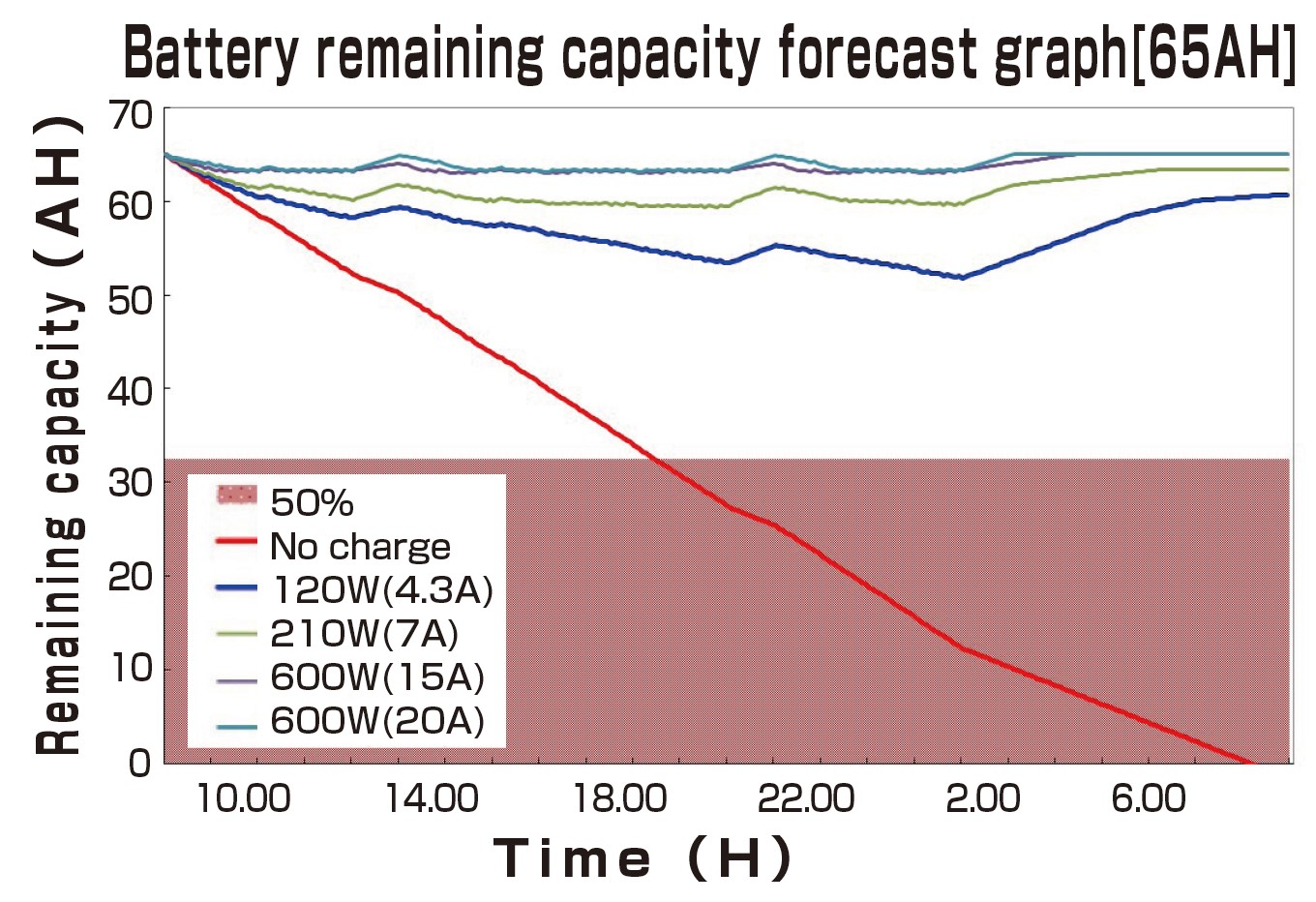 AGV charge simulation graph! We will simulate from the selection of the model that is most suitable for the current operation. (For free)
B & PLUS offers a range of charging systems from 30W to 600W. You can choose the system according to your battery and operating conditions. Also, for customers who want more charging capacity, we also offer products from partner manufacturers. Please contact for further information.
B & PLUS wireless charging products
30W
120W
Photo

Power

30W
Lead battery only
30W


Lithium ion battery for Maxell only

30W


Lithium ion battery

120W
Lead battery only
14.4V/2A (12V)
28.9V/1A (24V)

14.2V/2A (12V)
28.9V/1A (24V)
41.75V/0.8A(36V)

14.8V/8.5A (12V)


29.0V/4.3A (24V)

Distance

4...10mm
0...20mm
0...20mm (12V,24V)
0...18mm (36V)
0...10mm

Feature

Compact design without an amplifier.With LED display function.

For Maxell lithium-ion battery only

Compact design without amplifier.

With various protection functions.

Compact design without an amplifier. With various functions with protection.
210W
600W
1000W
Photo

Power

210W
Lead battery only
600W
Lead battery / lithium-ion battery compatible (consultation required)

1000W




Lead battery / lithium-ion battery compatible (consultation required)

V/A

30V/7A

15V/34A (12V)


30V/20A (24V)
60V/10A (48V)

30V/34A (24V)




60V/17A (48V)

Distance

0...10mm

0...20mm or 20...40mm

0...15mm

Feature

With various functions with protection. CCCV charging system is adopted.
Compatible with both lead and lithium batteries (Please contact us).CCCV charge system is adopted.

Compatible with both lead and lithium batteries (Please contact us).CCCV charge system is adopted.
The B & PLUS system features not only in a wide power range, but also a small and easy installation. It is smaller than other companies' systems, and wireless communication and power supply are performed on the station and AGV side. There is no need for additional installation of communication sensors, and drives power for the AGV side. It is a simple installation system.
600W wireless charging system Charge image animation
Wireless charging system Easy setting!
For various consultations and requests, our elite sales; specializing in wireless charging will visit customers all over the country.


High-frequency equipment application
Depending on the type of wireless charging system, it is necessary to apply for high-frequency equipment
As high frequency utilization equipment, as regulations concerning the radio wave utilization specified by the Ministry of Internal Affairs and Communications, "The telegraph that passes a high frequency current of 10 kHz or more in the electric wire, telephone, other communication facilities and the high frequency current of 10 kHz or more, it is widely used in the field and greatly contributes to the Japanese industry. However, because radio waves leaking from high-frequency equipment may interfere with other wireless communications, those who intend to install high-frequency equipment that use a certain frequency or power need to obtain permission before installing. In addition, when changing the facilities which have already received permission (expansion, removal, change of setting place), going to abolish or handing over, permission is also required. Although there are several conditions for equipment not covered in the above, for wireless charging systems of 50W or more, it is necessary to apply for high-frequency equipment. The application method and necessary documents are listed on the website for general affairs, the application period is about one month, after the application is completed, and a radio frequency equipment permit will be sent from the general communication station. If there is a request, proxy application by proxy will correspond, so please consult with our sales department.