Startup prototype example
1.Wireless power supplyto doors and sashes
Wireless power supply to be embedded in sashes and doors. Incorporating a coil in the casing of the aluminum case, filled with resin.This is the exapmple of the customer who wishes to turn on the tape LED.We supply electric power of about 10 W from the power supply of 12 VDC to the 24 V tape LED.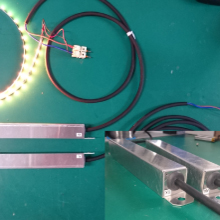 2.Thin Wireless Power Supply
The red battery is a commercial lithium ion battery of 18650 type. It is a prototype for wireless charging to a small electric power tool.Since this customer requesteda thin type, we used a thin and compact coil and charge it with 5W. Two sets were created with combinations of coils. The part of the black shrink tube is the control board.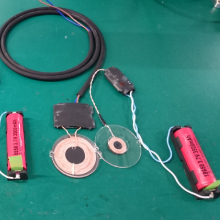 3.Medium distance wireless power supply to lighting LED
This is a medium range wireless power supply created for demonstration. Transmission distance is about 20 cm, power transmission is carried out with 20 W lighting LED as a load. The black one between the coils is a resin spacer.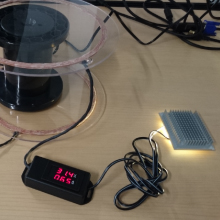 4.Medium-distance wireless charging to mobile devices
This is demonstration machine that charges at a medium distance to a mobile device such as a smartphone. This customer wanted to embed a large coil in one thing and charge it to a device that is about 30 cm away.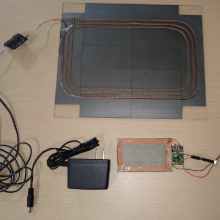 5.Special shape wireless power supply
It is a characteristic shape, wireless power feeding between circular arc shapes. Power 10W, contact signal 4 points will be transmitted. For use in a vacuum environment, PEEK cap is combined with a white alumite casing to fill the interior with a low out-gas resin.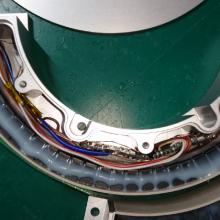 6.Standard board set for wireless power supply
It is a wireless power feeding standard board set. Actually 15W or more, you can use it at around 10W.You can adjust the oscillation frequency, resonance frequency, output voltage by yourself.If stock is available, it can be delivered at very short time and low pric. , It is best for customers who would like to try wireless power supply for the time being.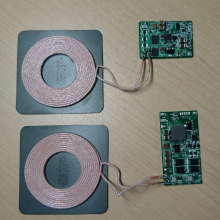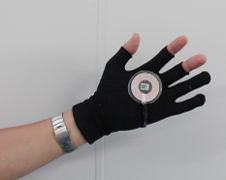 Wireless power supply globe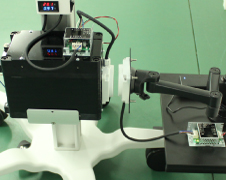 Wireless charging to a medical cart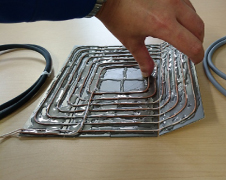 Wireless power supply through rectangular coil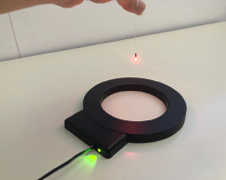 Wireless power supply for embedded devices for medical use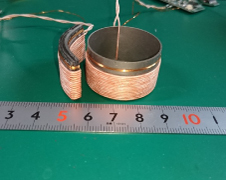 Wireless power supply between ring coil and arch shaped coil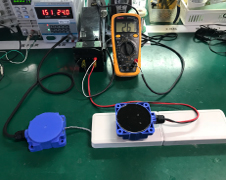 Medium Power Linear direction Wireless Power Supply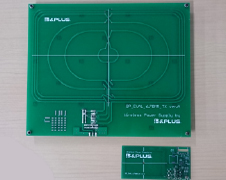 Basic research for wireless power supply in 6.78MHz
Wireless power supply to UV LED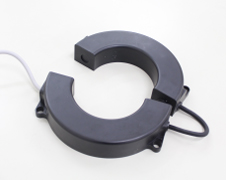 Wireless power supply with a divided ring