In some wireless power supply principles, B&PLUS wireless power supply system adopts "an inductive coupling principle. The electricity of direct current input into the transmitter is converted into interchange magnetic by going along the internal circuit and coil, and the electriacity magnetic force is and anti-opposite side receives and reach the coil of the electric part. Interchage magnetic force realize wirelss power feeding in what is converted into electricity.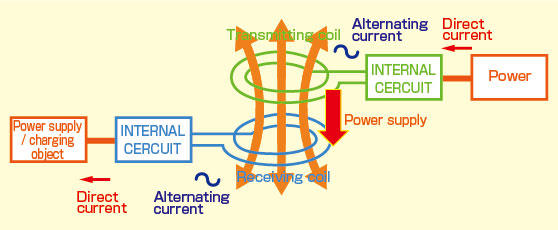 What is known as the other method is Qi standard which is widespread in consumer applications as one of the wireless power supply famous for electromagnetic coupling system. Qi is the world standard of the WPC (Wireless Power Consortium). It is mainly adopted as a charger of a smart phone, and many of them are found abroad mainly in North America. In this way, the electromagnetic coupling method has various strengths and is adopted in many fields.
For many years, B&PLUS has been developing wireless power supply for customers in industrial applications, in which Product with excellent environmental resistance are necessary. We deal with products in a wide power range from 1w or less up to 1kw. Moreover, we are not satisfied with existing products; we are constantly exploring new possibilities (technologies).
Reference: Outline and features of wireless power feeding systems
■[Electromagnetic induction] High Frequency electromagnetic coupling type
B & PLUS is adopting
The basic method of wireless power supply that increases the coupling coefficient and transmits power. It is widely used for practical applications because of product stability.
(Frequency band : About 10kHZ to hundreads kHZ)
■[Electromagnetic induction] Magnetic resonance type
One of electromagnetic induction type. A method of increasing the Q value of the coil characteristic instead of the coupling coefficient. An effective method in a long distance area where the coupling coefficient is weak.
(Frequency band : hundreads kHZ to about 10MHZ)
■Electric field coupling system
A system using electric field coupling with electrodes facing each other. It has advantage in free installation and misalignment, on the other hand, it is weak against metal opposition and few practical cases.
(Frequency band : About hundreads kHZ to few.10MHZ)
■Microwave wireless communication system
It is used for power supply at ultra long distances by using microwaves. Because efficiency is very bad, it is used only for some limited applications with few practical cases.
(Frequency band : About few~)