TOP
>
最新情報
> New technology / AC (Alternating Current) types wireless power supply announced at IEEJ
2021/03/30
New technology / AC (Alternating Current) types wireless power supply announced at IEEJ

New technology announced at IEEJ at March.2021
The technology of wireless power supply continue to improve, and many products used at the market. It mainly output direct current (DC), and work or charge any electric component. Finally, any electric parts are works by direct current (DC), however many products are connected with alternating current (AC) in the market. Therefore gradually, AC wireless power supply are required. Some company use inverter, and exchange DC to AC by it. However this types decrease the power, and the size will bigger. Therefore We decided to develop new wireless power supply which transfer AC, and success this development.

As we mentions, familiar devices are converted to various voltages such as 5V for mobile phones and 19V for personal computers through an AC adapter. Therefore, if you can send AC power, you can connect various things and the appeal of wireless power supply will expand.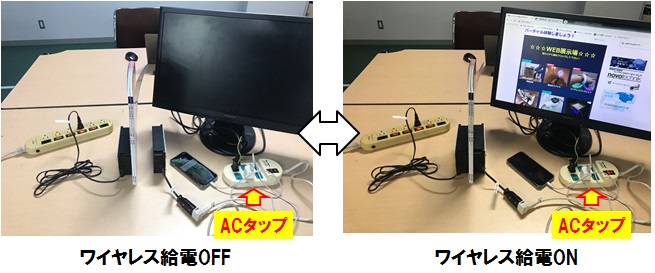 When the wireless power supply is separated like left images, the power is not transfered and the power of the AC tap remains off, but when the wireless power supply is opposed through the booklet, the power is supplied to the AC tap. Then the mobile phone and the display get the power.
Of course, it is possible to supply AC100V not only through the booklet but also through the glass!!!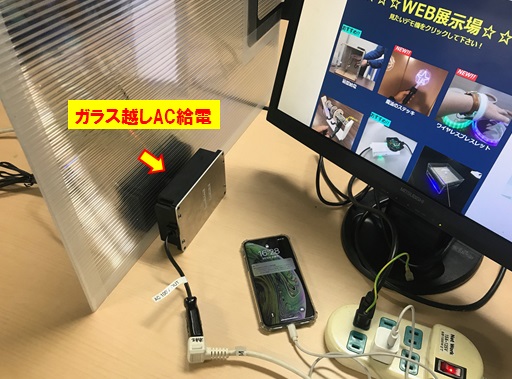 Mr. Niregie made the presentatin about this technology!!
This time, the new technology will be announced by Mr. Niregi who develops this technology. When he was a university student, he sometimes participated in academic societies. However it's the first time to participate in it after graduation. Additionally, due to the Covid-19, everyone participated on the WEB, and he is also explain this technology thourgh the Web.
While almost prasentater explain the research and logical formulas in the view of academic, B&PLUS announced mainly the actual development results while explaining the circuit features as a manufacturer maker.

In order to announce the actual development results, many specific questions such as compliance with laws and regulations in the market and size comparison from the current technology were asked.
B & PLUS is also developing prototypes for wireless power transfer and wireless charging.
Please feel free to contact our technical staff.