2021/05/01
30W wireless charger for small mobility system !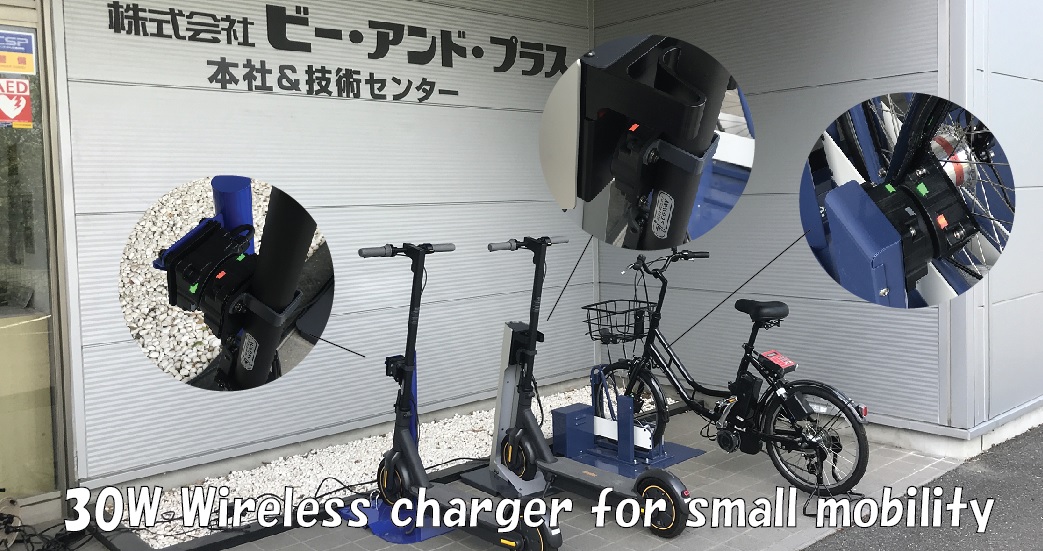 B&PLUS develop and manufacture 30W wireless charger for 12V, 24V, and 36V battery of compact mobility.
the caractaristics of this products is in below;

〇Supply 30W power thourgh the air gap

〇It can charges 12V / 24V / 36V battery

〇IP 67 protection for outside operation

〇Compact sharpe as 80x80x30
It can charge the battery by CC-CV as below graph.
12V type
24V type
36V type
Remote Side:
RVT-233-502LI-PU-_ _
Remote Side:
RVT-233-401LI-PU-_

Remote Side:
RVT-233-701LI-PU-_

Base Side:

RVE-233-2-PU-_ _

CC: 2 ± 0.2A
CV:14.2 ± 0.2V

CC: 1 ± 0.1A
CV: 28.9 ± 0.35V

CC: 0.8 ± 0.1A
CV:41.75 ± 0.6V

Distance : 0-20mm

Distance : 0-20mm

Distance : 0-18mm
Easy mobility charging

It sometimes used with electric kickboard, electric bicycles. When you stop at the station which embedded base side, it supply the power through the air gap and start battery charging.

And it also used with solar panels where there are no power source, and outside situations as below video.
If you have any interested in our products, please feel free to contact B&PLUS.