Our wireless power supply, product performing "wireless feeding and signal transmission" at the same time is a product of the B&PLUS. Our original (Acquired a patent, a utility model). B&PLUS succeeds in the development of "the remote sensor system" in 1985, over 30 years. It is a pioneer of "the wireless power supply" that developed many original products.
Evolving Wireless power supply& Signal transmission system
30 years ago, when B&PLUS sent a wireless power supply out to the world, there were only one switch, signal of ON/OFF. The wireless power supply became the high output to 1KW and evolved in many ways. The switch became many points and able to transmit the analog signals such as temperature or the load. Also be able to transmit the data signals such as big CC-Link and DeviceNet, quantity of data at the same time. The wireless power supply & signal transmission system has been progressing steadily.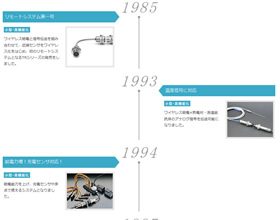 Hard to affect the neighboring apparatuses and able to power supply in high efficiency.
Considering the merit of the user to the maximum, in the near neighborhood domain that is hard to affect the apparatus, it is stable and adopts the electromagnetic induction method using the resonance circuit which the wireless power supply of the high efficiency, ables to realize in wireless power supply.
For the further development of the market, we continuously research and develop various techniques. Toward world number one wireless power supply maker and to open much more possibility in future.