Electromagnetic induction
How can the electricity flow through the space and not ony through the metal? A principle of "electromagnetic induction" discovered more than 180 years ago. Have you tested in science class the magnet which stuck strongly when you canceled electricity to the coil, "the electromagnet" This is an entrance of the electromagnetic induction. The electromagnet converts "electricity" into "the magnetic field" by canceling electricity to a coil. And it is possible to drain "the magnetic field" into the space (release).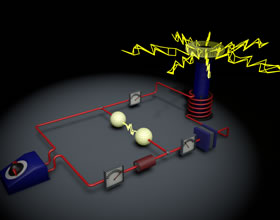 Principle of electricity and magnetic conversion / electromagnetic induction
The wireless power supply can be possible by using two coils. At first a magnetic field occurs when it carries away electricity to coil (1) (the Fleming right-hand rule). When coil (2) in a far place catches the magnetic field, an induced current transmits, and electricity is generated. This is a principal of the wireless power supply.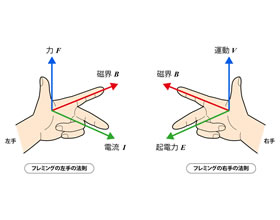 The future and the advanced wireless feeding technology
Wireless feeding includes the technique using the magnetic field and the technique using the electric field.
It is also divided with a non-emission type,perform in a near field. And an emission type to perform in a distant.

Non-emission type ... electromagnetic induction, magnetic field resonance,
Emission type ... electric wave method including the inductive coupling, laser method, solar power generation

To make the wireless feeding technology possible, a design to a purpose of use and environment is required. Transmission ranges, distance or the axis gap and the electricity that can feed a design method are all different. In manufacture, a circuitry, a housing design to perform heat radiation efficiently is necessary in addition to a delicate coil design technology and design technology of the circuit to perform electricity transmission. The wireless power supply is a still new technology, and laws and regulations and the standardization are in progress now.